A limited number of rooms have been set aside for TRISEP 2016 participants at Gage Towers on the UBC campus.


---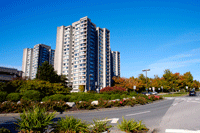 The room rate in the Gage Towers is: $56.00/night

Details:
- Single room with single bed in a six-bedroom apartment.
- Guests share washroom, lounge and kitchenette (not equipped with dishes, cookware, etc.)
- Room rates also include a full continental breakfast at the Pacific Spirit Place Cafeteria


All rates are in Canadian dollars and will be subject to 12% HST.

Deadline for booking accommodation is JUNE 1st, 2016, or until all rooms have been booked. Please book early. Rates will be offered for 3 days prior and after the TRISEP 2013 summer school takes place, subject to availability at the time of registration.

Note that July and August is high tourist season in Vancouver. At that time it is very difficult to find accommodations in this price range anywhere in the city.

Book your room at UBC Conferences on-line booking system with the group code G160619A.
---
Alternatively, you may contact the Reservations Office directly and let them know you are attending the TRISEP 2016 summer school in order to obtain the special room rate.

Telephone: 1-604-822-1000
Toll free: 1-888-822-1030 (Canada and USA only)
Fax: 1-604-822-1001
E-mail: reservations@housing.ubc.ca